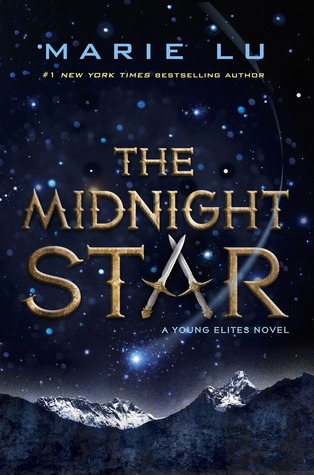 Review by: dancingonrain.
Adelina Amouteru's quest for world domination and revenge against the people and the world who hurt her comes to an end in this final book in Lu's The Young Elites trilogy.  The story begins with Adelina and her group, "The Rose Society," continuing her conquest of the world and "The Daggers," but soon it comes to light that there is a bigger threat that will effect the entire world.  After Raffaele sends word to Adelina in regards to her dying sister Violetta Amouteru, Adelina and her Rose Society find themselves teaming up with The Daggers again along with her prisoner, Teren.  Adelina and her Rose Society must work together with them even with the friction from the previous book that pitted the two groups against one another.  It's the only way the world is to survive this new catastrophe.
Overall I enjoyed this book and I thought it was a good way to end the trilogy.  More of a bitter-sweet ending rather than a happy one, which I thought fit the character well too.  Although I would've liked it if there had been a happier ending, I still thought the ending Lu chose fit.
I honestly think I prefer Marie Lu's Legend Trilogy more, but I still enjoyed this series as a whole too.  Sometimes I wasn't always 100% sure of some of the characters' motivations.  I was able to overlook it, but I thought her Legend series did much better with the motivation.  Still, I love dark worlds and magical abilities so that kept me intrigued.
When I was about half-way through the book, I thought I may have known how everything was going to end and in the end I was half-right.  It was one of those things where it was obvious and I should have seen it coming, but for whatever reason, I didn't.
I enjoyed the little Midnight Star excerpt after the "epilogue" the most.  This is not to say it was the only thing I enjoyed about the series, but the Midnight Star epilogue-epilogue was my favorite part.
If you like young adult dark fantasy stories, then I'd recommend this series.  You could probably sit down at a bookstore or a library to read it before deciding if you want to purchase it, however, if you like dystopian novels, you should just buy her Legend series right off the bat.
Anyway, enough of my bias.  Happy reading.  😀